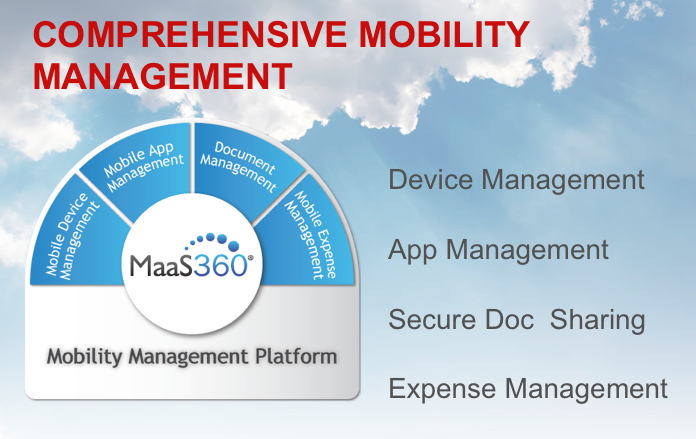 Quickly Deploy and Support Mobile Devices in the Enterprise

IT organizations today need visibility into and control over the mobile devices that are entering the enterprise, whether they are employee owned or provided by the corporation. MaaS360 mobile device management provides a comprehensive set of capabilities so you can quickly and easily configure devices for enterprise access and ensure that the corporate data stored on all devices is secure.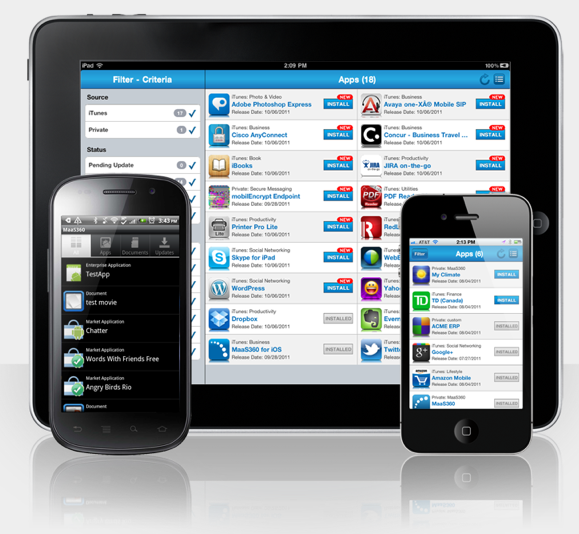 Provision
MaaS360 streamlines the configuration and device enrollment process using SMS, email or URL to make life simple for IT and mobile employees. With automatic default policies for Exchange ActiveSync and Lotus Notes Traveler connected devices, as well as iPhone, iPad, Android and BlackBerry devices, IT can simply modify an existing policy rather than creating one from scratch. Device enrollment takes just minutes instead of hours. MaaS360 discovers new users and devices, and allows IT to launch a simple end user self-service OTA enrollment process.
Integrate
Through our unique approach, MaaS360 makes enterprise system integration easy and straightforward. With MaaS360 Cloud Extender, you can securely integrate with all major email, calendar and contacts platforms including Exchange, Lotus Notes, and Office 365, plus Active Directory, LDAP and any required Certificate Authorities. Robust APIs ease and simplify the integration process.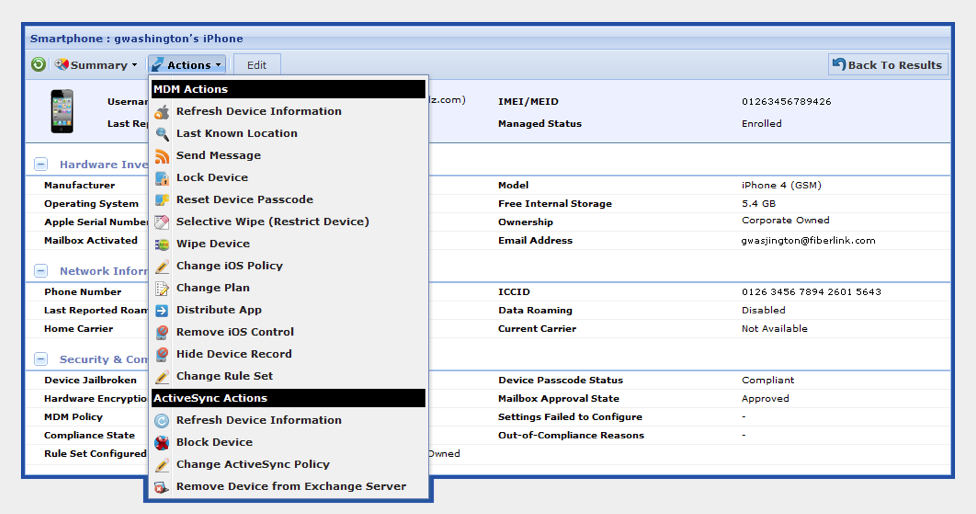 Manage
MaaS360 provides a unified management console for all mobile devices with centralized policy and control across multiple platforms. Through automated workflows, IT can discover, enroll, manage and report on all enterprise-wide devices. In addition, role-based MaaS360 portal rights allow you to expand or restrict access to authorized users.
OTA configuration management provides simple delivery and maintenance of corporate device profiles, including Wi-Fi and VPN settings. Through device quarantine and approval, IT is automatically notified of any new devices on the network and can block or approve them, ensuring compliance with corporate policies.
MaaS360 also delivers robust cross-platform, application management capabilities. MaaS360 allows enterprises to have their own App Catalog that presents users with approved or recommended public applications and in-house developed applications, while offering the ability to automatically push updates of those applications as they are made available.
Secure
MaaS360 provides dynamic, end-to-end security and compliance management capabilities for your devices. Enforcement of passcode policies and strong encryption keys protects sensitive business and personal data on mobile devices. With MaaS360, you can configure device passcode policies to meet the highest enterprise security standards, while actively monitoring devices to ensure total compliance.
Through real-time compliance management, MaaS360 can detect when users opt out of your MDM program, install prohibited applications or initiate SIM changes. Based on this information, you can take automated policy actions, such as messaging the user, blocking email or even wiping the corporate data from the device.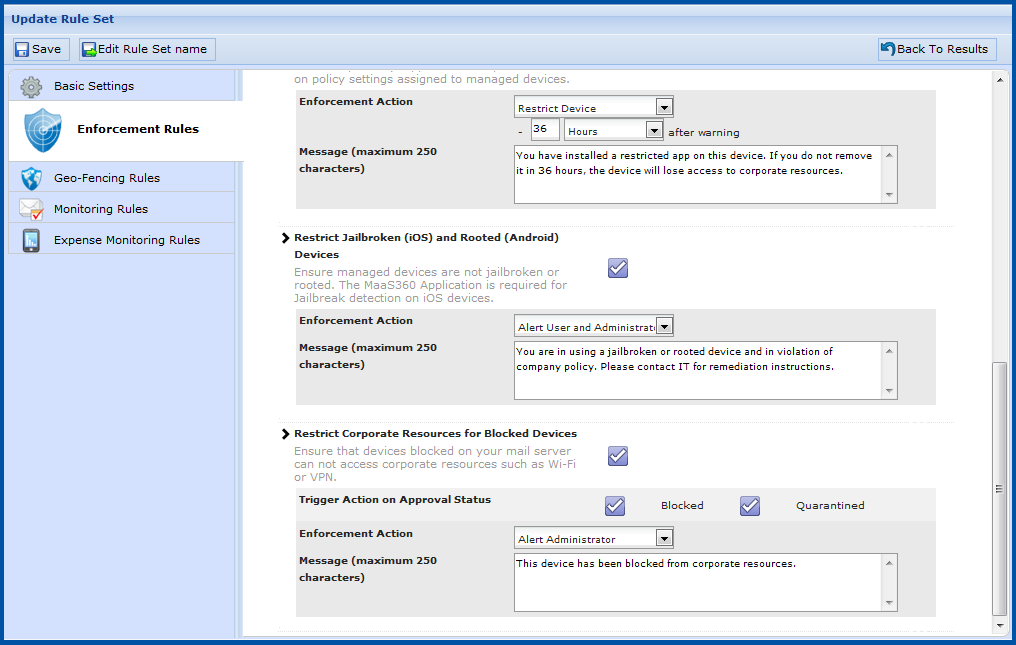 Monitor
Mobility Intelligence™ (MI) dashboards deliver an interactive, graphical summary of your mobile device operations and compliance. MaaS360 provides integrated MI reporting and analytics to provide a high level view into your mobile device landscape with detailed hardware and software inventory reports, plus configuration and vulnerability details.
Your organization will gain insight into the distribution of mobile devices across the different operating system platforms, approval statuses, device capabilities, ownership and various other useful summaries and detail. Administrators can customize their Watch List to track and receive alerts about key events.
Support
Supporting mobile workers requires a 24x7 operation that's always on. MaaS360 provides robust help desk capabilities for support procedures such as locating a device with GPS, resetting a user's passcode and sending a direct message to a device. MaaS360 also provides an end-user support portal that allows users to self-manage basic tasks, such as wiping or resetting the password on a lost device.
To set up a FREE CONSULTATION,
email us at: MDMsupport@macsatwork.com
OR