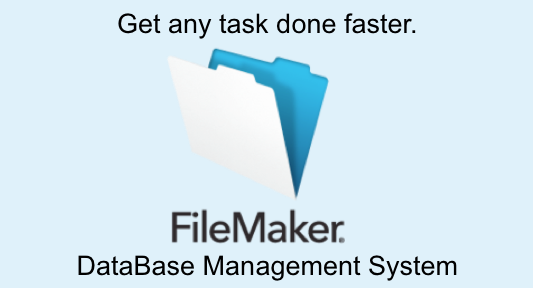 We use FileMaker to create systems for our clients that are extremely flexible and maintainable. We love the design tools, server stability, ease of use, connectivity, add on products, plug-ins, and top notch vendor support!
The number of scenarios where FileMaker is a good fit is growing rapidly.
But what is it and how could it help you and your business?
It all starts with the DESIGN
FileMaker is designed to solve tactical business challenges ranging from tracking scientific experiments to horse racing awards to purchase-request tracking systems. Filemaker solutions can be created from scratch or from Filemaker's own set of starter templates. A surprisingly functional system can be built fairly quickly from a mere baseline of specifications. We work with you from the first interview to the completion of the project to ensure a successful and productive outcome. Projects are often broken into smaller pieces with specific goals for each piece. This helps us and you to measure our progress throughout the project. The end-user is involved in the entire process. Instead of waiting until the application is a final product, when it may not be possible to make changes easily, problems are identified and solved at each stage of development.
The VALUE
Users and workgroups have a faster and less expensive approach to building applications that support their own job functions. More than just database management, this is a rapid application development tool that integrates architecture, business logic and user interface.
The ROI (Return On Investment)
Gaining a competitive edge and improving the bottom line, that's what FileMaker Pro does. It is the ultimate toolkit designed to help people build solutions that make data more meaningful and rapidly provide a return on investment (ROI) by improving workgroup productivity.
For more information or to set up a FREE CONSULTATION,
email us at: info@macsatwork.com